Are you looking for the best gym in the Charlotte area?
Maybe you are brand new to fitness and exercise. Maybe you just moved to the area and don't know what the Charlotte area has to offer. Maybe you are tired of your current gym and just want something different. You may have even googled, "best gyms near me."
Whatever the case, welcome.
It can be hard to pick a gym. After all, you've got Olympic weightlifting gyms, CrossFit gyms, powerlifting gyms, luxury gyms, old-school gyms, and so many more. Not to mention, all of the nationwide brands - gyms like Anytime Fitness, Planet Fitness, Orangetheory Fitness, and LA Fitness. It can be tough to decide exactly which one is best for you. So let us help, after all, we do call Charlotte home!
While I will rank these gyms in top 10 fashion, ultimately the best one for you is up to you. I will guide you, but things like price, type of training done at the gym, location, hours, and other factors are going to be big deciding factors you have to weigh for yourself. For instance, if you really value yoga classes then an option like Hive is going to be way higher than #10, on the other hand, if you only want to do powerlifting and compete at a high level, then only a couple of the options would be a good place for you to train. Each of these gyms has many positives, it's just up to you to determine which ones matter most.
Alright, let's jump in and start with #10.
#10. Hive Fitness
Hive combines multiple group fitness classes into one. They offer a bootcamp, yoga, and barre boutique studios and have a fully equipped gym as well as personal training. This is really what separates them from other gyms in that they bring multiple different studios into one building. 
Don't worry, you aren't missing out on anything by choosing a gym that focuses on more than just power racks and dumbbells. Their gym equipment includes barbells, kettlebells, a functional fitness area, and even space for Olympic lifting. 
Who is this gym for? Anyone who enjoys barre, yoga, or bootcamp, but doesn't want to choose just one. With Hive you don't have to decide between one studio or spending $600 per month on a fitness studio, yoga membership, and gym membership.
What's pricing like? This really depends on what you pick. Pricing is anywhere from $89 to $199 per month. This really depends on how many classes you want with your gym membership. All memberships come with an open gym, and Hive also offers personal training, drop-in, and class packs. 
Quick summary: Are you looking for a gym that also offers yoga, barre boutique, and bootcamp group fitness classes? Welcome to Hive, the gym that combines all of your favorites in one.
#9. Elite Fitness - Huntersville 
If you love that old-school feel when you walk into a gym, Elite Fitness in Huntersville is for you. When you walk in, you'll see their brightly colored, power racks, plate-loaded machines, and bench press stations. You'll hear the metal plates jingle as gymgoers squat and bench. This is a bodybuilder's dream. After all, the owner is an accomplished bodybuilder himself. 
Who is this gym for? Elite Fitness is for anyone, but if I had to say a specific type of gym-goer, it's geared more towards the bodybuilding community. You aren't going to find as many strongman and Olympic weightlifting toys here, but then again that's not the goal. 
What's pricing like? You'd have to contact the gym on this one, however, you do get a free 7-day trial, who doesn't love free fitness training?
Quick Summary: If you are looking for a quality gym that leans toward bodybuilding, but has everything you need for general fitness, Elite Fitness may be your spot especially if you are in the Huntersville area. 
#8. PRIDE Conditioning 
PRIDE Conditioning is your place for all types of training. Home to world record powerlifters, owners Doug and Lindsay Seamans have competed in everything from Muay Thai, kettlebell sport, powerlifting, and Olympic weightlifting. 
The gym certainly models the two owners as they offer athletic conditioning for anyone looking for a great workout as well as more specific programs like kettlebell sport, weightlifting, and powerlifting.
As far as equipment, they have you covered from power racks to sleds to turf to Olympic lifting stations and even a boxing room with a ring inside.
You'll have everything you need here. 
Who is the gym for? This gym is for just about anyone. With their athletic conditioning group fitness classes, anyone can jump in and get better. Specifically, if you are interested in boxing or kettlebell sport, this gym offers more than you'll find almost anywhere else. 
What's pricing like? Pricing is anywhere from $145-$165 per month, so definitely more expensive than most gyms. However, these programs do include coaching so you are getting more than just access to a gym. They also offer personal training. 
Quick Summary: This is a good all-around gym for whatever you are training for. They have everything you need, especially if you enjoy throwing in some boxing training or are interested in kettlebell sport. 
#7.
Lifetime Fitness
Do you enjoy the finer things in life? 
Lifetime Fitness combines a country club and a gym. It is a luxury gym, no doubt as amenities include saunas, whirlpools, steam rooms, childcare, indoor and outdoor pools, a restaurant and so much more. 
Okay, let's get to the actual gym. As you'd expect, the gym is beautiful. Lifetime is known for having great, clean equipment. This is a gym you'd go to to get a great workout, but don't expect to do much strongman or serious powerlifting here. They have tons of free weights, resistance machines, and cardio equipment. Lifetime also has some really great personal training options and group fitness classes.
Who is this gym for? This gym is for those who want a full-experience gym with all the extra amenities. Are all of these things necessary to reach your fitness goals, not necessarily. Is it nice though to sit by the pool after a workout, drinking a protein shake? Oh, you bet it is.  
What's pricing like? Welllll, currently the Charlotte Lifetime has a waitlist. So if this is the gym you want to be at, you are going to need to hop on that. 
Quick Summary: Lifetime Fitness is a clean, beautiful gym that has a lot of great amenities. Because of this, it is not cheap, but absolutely worth it for many of the members. 
#6.
Norse Compound
This gym prides itself on being a community of brothers and sisters. They want to really create that family atmosphere that wants to see each other succeed. It's what the gym was founded on. 
As far as gym setup and equipment, they've got a large assortment of all things strongman, powerlifting, and strength training. Open 24 hours a day, 7 days a week, you don't have to let your schedule get in the way of your goals. 
Who is this gym for? Anyone looking to get stronger and join a community. They put an emphasis on creating a place that members want to come back to. They put their money where their mouth is with a month-to-month membership.
Pricing? You'll have to contact Norse for this one. 
Quick Summary: Want a community of like-minded individuals trying to achieve their fitness and strength goals? Look no further.
#5. Ultimate Fitness Gastonia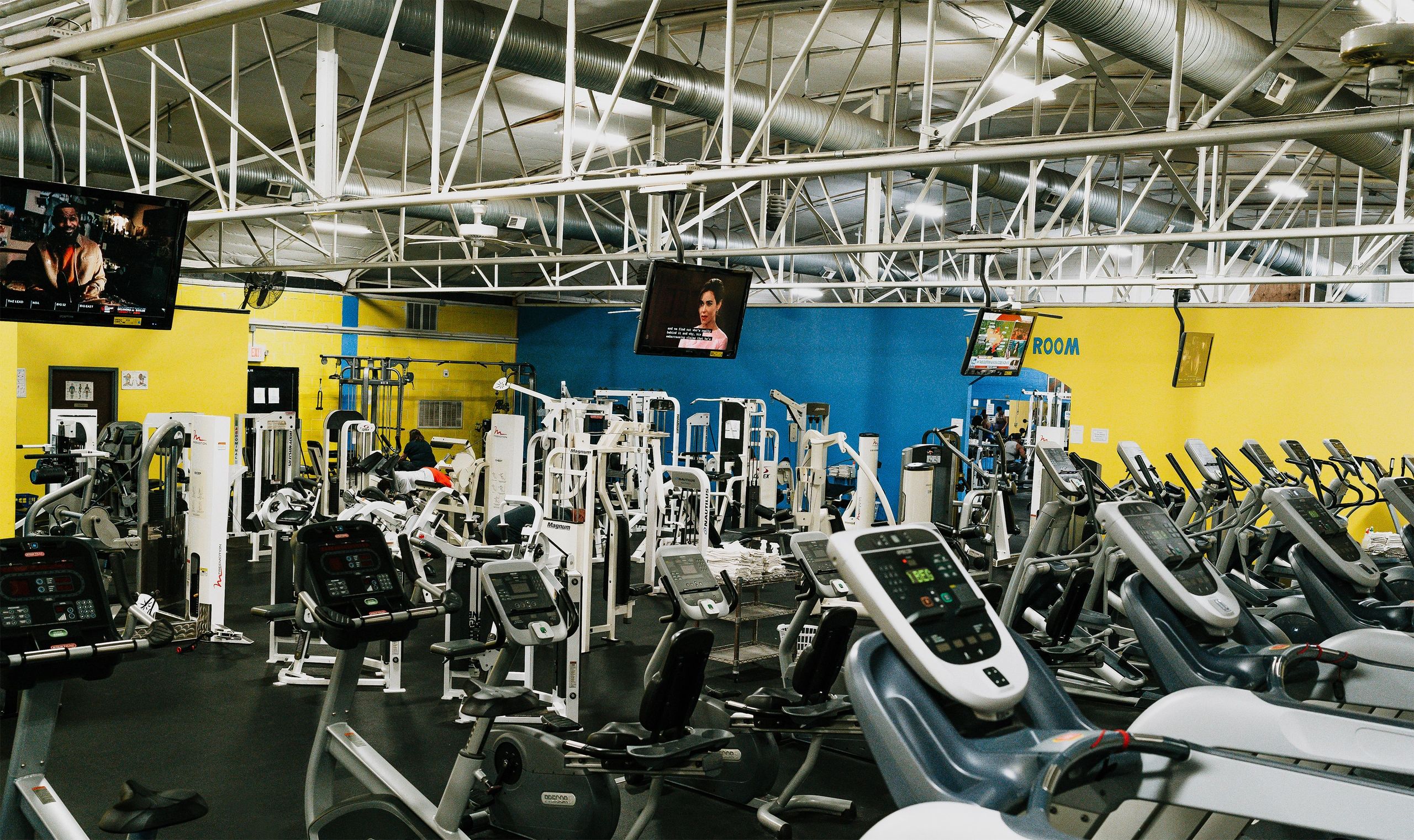 Ultimate Fitness in Gastonia is a family-owned gym that has been a part of the community for over 25 years. They have all the gym necessities you need - free weights, plate-loaded machines, cardio equipment, a boxing room, a cross-training room, and even pre-packaged full meals ready to help you hit your protein goals post-workout. 24-hour access is another huge win here. 
Who is this gym for? Ultimate Fitness is for those who want an affordable, local gym.
What's pricing like? Pricing here is very affordable. You are looking at $25 per month, which is definitely on the lower side. Big win for the wallet with Ultimate Fitness. 
#4. TFC Barbell
This gym is beautiful.
If you are interested in powerlifting, this is your spot.
With top-of-the-line equipment, including calibrated plates, completion racks, and power bars. TFC Barbell is clean and you won't have to worry about large crowds. Not to mention, they offer a sauna and use of Normatec boots for that post-workout feel-good. 
Who is this gym for? TFC Barbell is for anyone. I would say it could be a great option for anyone looking to really focus on powerlifting and getting stronger. They have all the equipment needed to help you get stronger and also offer personal training. TFC also offers a CrossFit/bootcamp style group fitness workout if you are looking for that as well. 
What's pricing like? TFC Barbell offers an open gym membership for $100 per month. This is definitely on the more expensive side, but you do get what you pay for. The higher price also means a less crowded gym. So you know what that means - no waiting for a bench for 30 minutes on a Monday after work. 
Quick Summary: TFC Barbell is a little bit pricey, but if you value time, space, and quality, clean powerlifting equipment you will feel right at home. If you don't get stronger here, it's on you. 
#3. Strength Empire - Indian Trail 
Are you trying to get STRONG, nah not just strong, but STRONG. Then this may be your gym. If you are a powerlifter, this is your spot. Strength Empire has over 3200 lbs. of Rouge-calibrated kilogram plates, two competition benches, monolift, specialty bars, Texas and Rouge Ohio Power Bars, chalk, bands, chains, and everything you need as a powerlifter. 
Looking more at Olympic weightlifting? Don't worry they've got you covered too with three full platforms, kilogram competition plates, change plates, squat stands, and jerk blocks. 
Oh and you thought we forgot about our strongmen, just you wait. Strength Empire has logs, yokes, stones, kegs, sandbags, and farmer's handles. 
Who is this gym for? Strength Empire is for anyone looking to train in powerlifting, Olympic weightlifting, or strongman. The gym isn't all that big, but it has everything you need for these types of training. Not to mention they have 24-hour access and are firefighter-owned. 
What's pricing like? $60 per month, very reasonable for a private strength training gym. 
Quick Summary: Does your training revolve around powerlifting, Olympic weightlifting, or strongman? If so, Strength Empire has everything you need at a great price. With 24-hour access, you can work on your craft whenever is convenient for you. 
#2. Crunch Fitness
Crunch Fitness is a national brand. Whether you are a Charlotte native or just got here last week, chances are you've seen Crunch Fitness. Crunch is legit, and they have five locations in the Charlotte area. They've got free weights (dumbbells, power racks, barbells, and kettlebells), cardio equipment, and resistance machines. Because they have so many locations, not all gyms are the same; however, many have a turf area as well.
As far as nationwide gyms go, Crunch is one of the best. 
Who is this gym for? Crunch is for the everyday gym-goer. Whether you are looking to lose weight, build muscle, get in shape, or just release a little stress, Crunch is a great option. If you are looking to specialize in powerlifting, CrossFit, or another type of training, Crunch may not be for you; however, if you are looking to sweat, get a pump, and have a great workout, Crunch is for you. 
What's pricing like? Pricing is incredible. We are talking $10-$30 per month. As you get closer to the $30 per month pricing, you also get access to over 400 Crunch Fitness locations. This is great, especially if you travel often. 
Quick Summary: If you are looking for an affordable, convenient way to workout in the Charlotte area, Crunch is for you. You can get a great workout at a gym near you without breaking the bank.