Cable machines are one of the most versatile pieces of home gym equipment on the market today. The possibilities for exercise selection are almost endless - from lunges and squats to shoulder press and chest flys - meaning you can truly get a full body workout with your cable machine.
Walk into almost any commercial gym and you will find at least one cable machine, with most gyms having multiple.
So, with all the functionality and the ability to give you a full body workout with just one machine, you may be wondering, "Why doesn't every home gym have a cable machine?"
One major reason is space. These machines are pretty big and will take up a good amount of your floor space in a standard garage gym. This means that often, garage gym owners will look to equipment like dumbbells or a barbell and plates to get a full body workout with less space needed. The second reason is price as cable machines are typically pretty expensive.
While there are certainly some drawbacks to the cable machine, if you plan on making the machine a staple in your exercise routine, it can be a great piece of equipment for your home gym.
One major advantage of the cable machine is that it allows you to keep constant tension when lifting.
Take the lateral shoulder raise for example. When using a dumbbell you really aren't feeling the full effect of the weight during the first half of the movement. On the other hand, because the cable machine allows you to keep constant tension - you are effectively creating more resistance at the bottom of the movement - allowing you to better strenghthen the muscle throughout the entire range of movement. This same principle can apply to an exercise like the chest fly.
A cable machine is a great versatile option, just be sure to consider the price and space before jumping all the way in. Keeping this in mind, the options below try and maximize space and price to best suit your home gym needs - and also allow you to chase that pump from chest flys - which is probably the 99% of the reason you want a cable machine. Hey, no shame here, we get it.
Here are The Top 5 Cable Machines for Home Gyms:
Titan Fitness Plate Loaded Cable Machine
What makes this machine different from the rest is the ability to plate load it - meaning there isn't a weight stack like you typically would see in a commercial gym cable machine.
This is a benefit for two reasons. First, it makes the machine much cheaper. This particular cable machine is just over $1000 which is substantially less than some other options. Second, it makes assembly and moving the machine easier because there isn't that extra weight that comes with a weight stack.
Add on the fact that this model has a pull-up bar, multiple handle attachments, and a lat pulldown option and this is a great option for your home gym.
It is worth noting that if you don't already have weight plates and don't plan on using them for any other reason than if you bought this cable machine - it'd probably be smart to go with a selectorized machine (one with a weight stack).
Check out Titan's plate loaded cable machine.
FreeMotion Dual Cable Cross Machine
The FreeMotion cable machine offers the unique ability to move the arms of the machine in two different planes of motion. Most cable machines adjust vertically, however, the FreeMotion machine has the ability to adjust laterally as well, giving you the perfect angle for whatever movement you are performing.
This is great for finding the exact angle for your rear delt flys or even allowing two people to train more effectively together.
This machine is also on the smaller side when compared to most cable machines. At its smallest, it is a little over five feet long, about three and a half feet wide, and about seven and a half feet tall.
There are dual-weight stacks on the cable machine, each holding eighty pounds.
Check out the FreeMotion machine here.
Rouge FT-1 Functional Trainer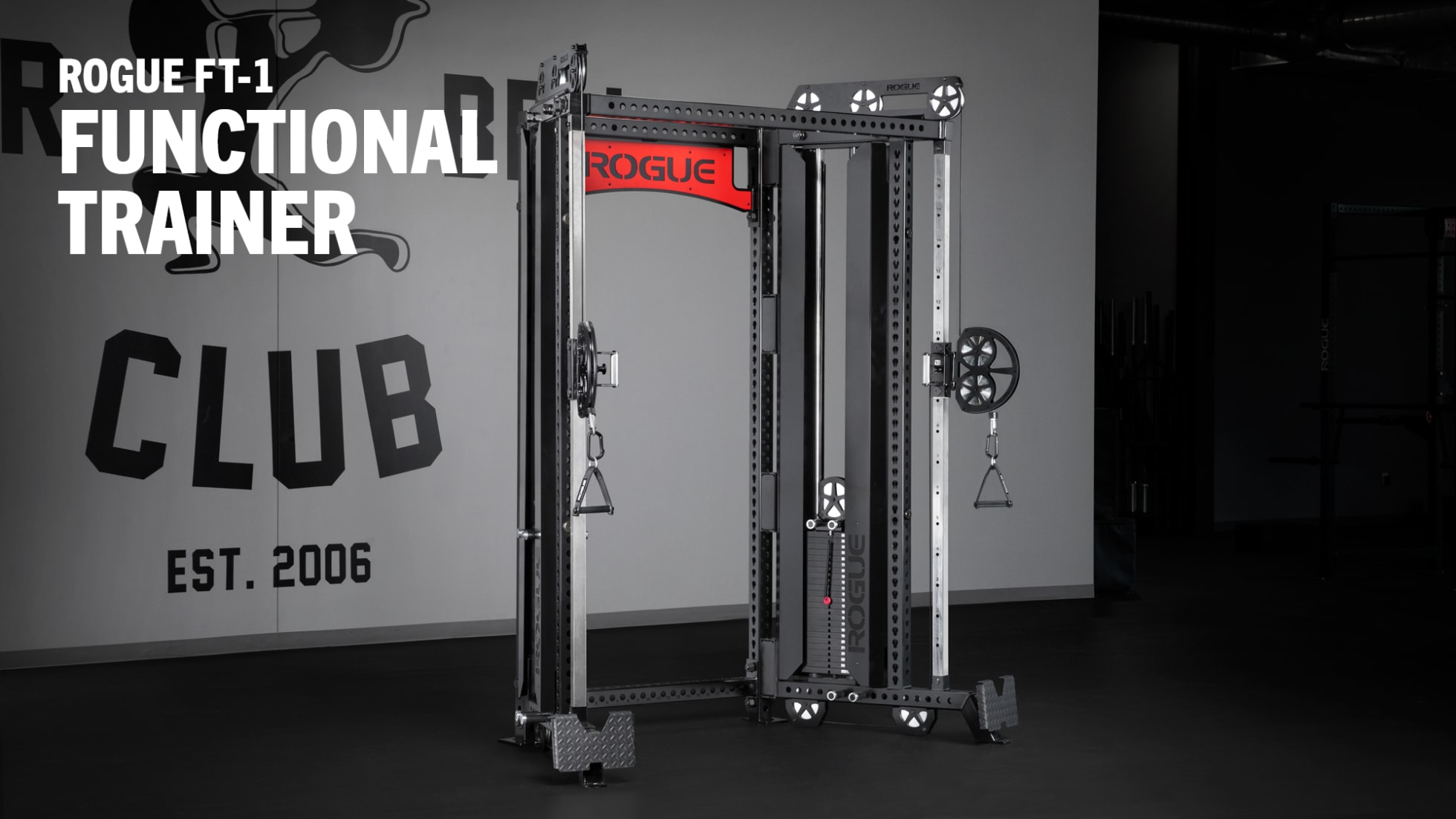 The Rouge FT-1 is for anyone looking for a heavy-duty cable machine. This machine is built to last, with military-grade steel and cables.
You shouldn't have to worry about running out of weight either, the Rouge FT-1 features dual weight stacks with 10 lb increments totaling 250 pounds each.
At almost nine feet tall and with a footprint of 90.5" x 47", this machine is large. The cable machine does have a great attachment you can purchase that allows for additional storage along the back - allowing you to better maximize the space in your home gym.
This machine is not cheap, but you will be getting a machine built for a lifetime - maybe even two. Who knows? Maybe your great-grandson will be getting his curls in one day on this bad boy.
Click here to see the Rouge FT-1.
Force USA X15 Pro Multi Trainer
This one may be my favorite cable machine.
When we talk about building a home gym, one of the biggest questions to consider is, "How can I get the most use out of the space I have?" For most people, a home gym is in your garage, basement, or spare bedroom and you only have so much room.
This machine right here is designed to maximize every inch of space.
Combining a squat rack, pull-up bar, storage weight tree, and cable machine in one piece of equipment. This might be the 8th wonder of the world - okay, maybe I'm getting a little carried away. But seriously, coming in smaller than a standard power rack plus you get the added benefit of having a cable machine - pretty impressive.
With bells and whistles galore, this machine comes with a lat pulldown, landmine, low-row foot plate, and so much more. Plus, you don't have an excuse for not hitting those squats on leg day with this half-rack.
Check out this beast from Force USA.
Freedom Fitness Pulley System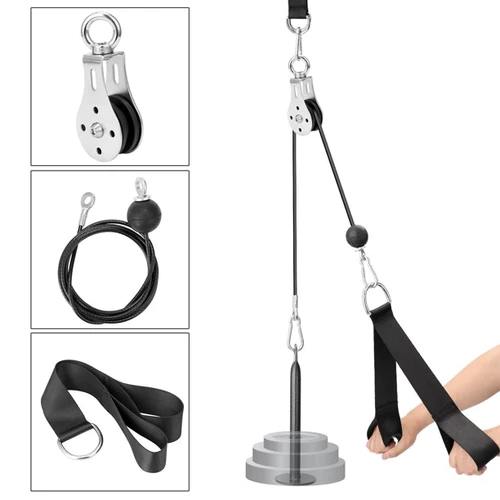 So, you've seen some pretty great options so far. But, maybe you are still on the fence.
Whether it is price, space, or you are not sure how sold you are on using a cable machine consistently, here is a simple solution.
The Freedom Fitness pulley system is a great way to begin cable training without jumping all the way in. At a price point of $50 and taking up virtually no space, you don't have anything to lose. Simply attach the pulley to a power rack, load your plates, and begin your triceps pushdowns, rear delt rows, or a whole host of other exercises.
While there is certainly some limited functionality when compared to a full cable machine, this is a great option to begin cable training, save money, or use your space for equipment more important to you.
Check out Freedom Fitness Equipment's pulley system.
Wrap Up
There you have it! You know have a starting point as you look for the perfect, quality cable machine for your home gym.
Whether you go with a plate-loaded cable machine, a power rack and cable machine combo, or even a pulley system, you are sure to get a great workout. While of course, we want you to hit the chest flys hard, be sure to throw in a few lunges and squats. Your future self will thank you.
As always, we are here for you at Freedom Fitness and want to see you build the home gym of your dreams. Feel free to reach out with any questions and check out our all of our machines here.
Which machine did you decide to go with? Let us know in the comments, we would love to hear from you!