We imagine that there are two types of people reading this article. The first type understands the importance of protective rubber flooring for their garage gym, and well, the second has come to understand how valuable rubber flooring is.
Whether you are here proactively or reactively - we have the solution for you.
Hopefully, you are the first person and don't currently find yourself with a cracked floor in your garage gym, unsure how to tell your wife what happened - but, hey no judgments from us.
Rubber flooring mats are a perfect solution for your garage gym.
Here are just a few reasons we love rubber flooring mats:
1) Rubber flooring mats are easy to install, move, and reinstall
Picture this - it's a beautiful spring day and you are about to hit some deadlifts in your garage. Well, if you wanted to you could easily move a couple of your rubber mats to your driveway and get some Vitamin D alongside your deadlifts. Rubber mats are typically between fifty to one hundred and fifty pounds and can often be rolled up for easy storage and moving - especially since the weight of the rubber mats has nothing on your deadlift. Plus, you just lay them out - no interlocking rubber over here.
2) Rubber flooring mats are easy to clean
Just a simple soap and water rinse and your mats are sparkly clean. Rubber is naturally an antimicrobial material so you don't have to worry about all that sweat. This is perfect for not only commercial gyms but your own garage gym as well.
3) Rubber flooring mats are as durable as they come
There's a reason many companies give long-lasting warranties on their mats - because they aren't worried. Ever seen a 5-year warranty on an iPhone? Exactly.
Aside from a few very thin mats, they can absorb heavy barbells being dropped from overhead, the weight of a horse, and even a car. The slip-resistant factor is also a huge plus when it comes to using rubber for your floor.
Understanding The Thickness of Your Rubber Flooring Mats
Rubber flooring mats come in a variety of thicknesses - anywhere from a couple of millimeters to a few inches. Here's a quick overview and guide for determining which thickness is best for your garage gym needs:
8mm rubber mats are best for all-purpose in your garage gym.
You can probably get away with dropping barbells, but it is probably wiser to go thicker if that's what you plan on doing. If you don't plan on dropping weights, 8mm is plenty thick for things like lunges, squats, and jumping rope.
3/8" is ideal for anyone looking to do some serious lifting on their rubber floor.
Barbells flying, deadlifts banging, and parking your car. Side note, if you do plan on parking your car on your rubber floor, make sure to go with virgin rubber or vulcanized rubber flooring so that your rubber mats aren't damaged by oil spills from your car. Let's just say, the glue that holds together certain types of rubber - like recycled rubber - and oil from your car aren't best friends.
1/2" and 3/4" are geared more toward commercial gyms.
However, there really isn't much downside to having a thicker rubber flooring mat. They will provide greater protection and since they are heavier will slide even less. Just be aware, if you are planning on moving your mats around, you may want to avoid these as they will be more difficult to move due to their weight.
There are all types of rubber flooring out there for you, to learn more about everything from interlocking rubber mats to more information on rubber material - check out our article here.
So, let's jump right into it - here are our Top 5 Best Rubber Flooring Mats:
Tractor Supply Rubber Stall Flooring Mats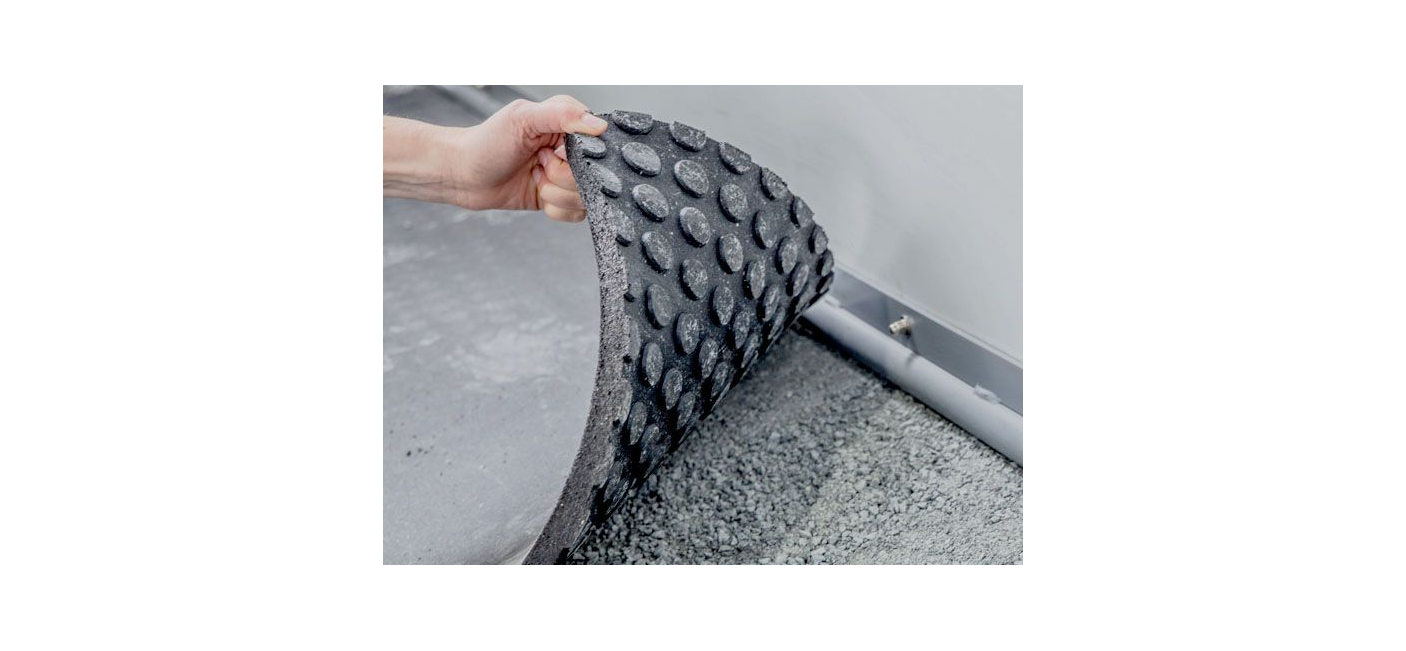 Originally designed for horse stalls, garage gym owners have taken these rubber mats over as a cheaper solution to their rubber floor needs.
Coming in at 6' x 4', these 3/4" recycled vulcanized rubber mats are a great option for your home gym.
Typically, these mats and similar horse stall mats are going to be the cheapest option.
However, do be aware that with the lower price tag comes a slightly greater risk of variations in length, width, and thickness. If you plan on covering your entire home gym floor with these floor mats, just be aware that there may be small seams and cracks in your rubber floor. These mats are also known for their strong smell. Cleaning can help remove some of the odor but just be aware.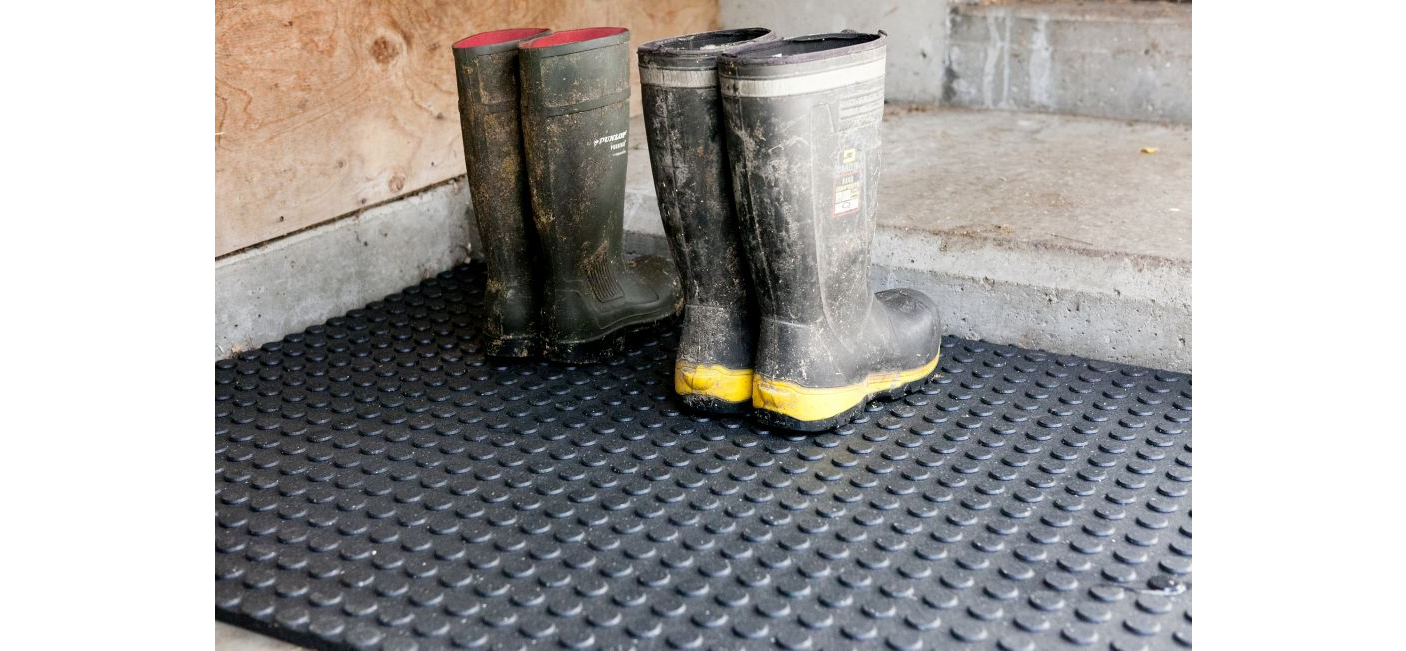 Check out the Tractor Supply Rubber Stall Flooring Mat here.
Titan Rubber Gym Flooring
Titan's rubber flooring mats are definitely on the longer side (15' x 4') when compared to other rubber floor options on this list. This can be especially helpful for anyone looking to fill a larger space with their rubber mats - maybe you are looking to cover your entire 2, 3, or even 4-car garage with a beautiful rubber floor.
The rubber material comes in multiple fleck colors - make sure to check out the pink fleck one before it's gone!
These rubber mats are 8mm thick which is ideal for many home gyms. If you are planning on doing a lot of CrossFit-style workouts or Olympic weightlifting on your floor, you may want to consider a thicker rubber flooring mat.
Check out the Titan Rubber Gym Flooring here.
Freedom Fitness Equipment Premium Rubber Flooring Mats
Ever wanted to snatch on Mount Everest or deadlift in the Amazon - well these are your rubber mats.
Okay, maybe they are not that extreme, but these mats were built to handle everything - especially the outdoors. While most rubber floor mats can handle indoor and outdoor use, these were specifically designed with handling the outdoors in mind.
They are portable and ready for whatever workout you can throw at them.
They come in the standard 4' x 6' size, are 3/4" thick, and are made of vulcanized recycled crumb rubber.
Check out the Freedom Fitness Equipment Flooring Mats here.
Rubber King Fitness Mats
While most rubber mats, except generally the horse stall rubber mats, have relatively low odor, this mat makes it a point to fight odor. They don't use harmful solvents or VOCs (basically chemicals that can get into your air) in this rubber flooring.
These rubber mats come in a variety of sizes (2' x 6', 3' x 4', 3' x 6', and 4' x 6') and thicknesses (3mm to 7mm). While it is not recommended that these are thick enough for dropping barbells and Olympic weightlifting, if you have no intention of using your home gym in that way but simply want rubber floor mats for protection - these could be a great option. They can certainly hold up for bodybuilding and general training.
Check out the Rubber King Fitness Mat here.
FlooringInc.com Shock Rubber Flooring Mats
While all rubber mats absorb shock and sound to an extent, these rubber mats were specifically designed with that in mind.
The waffle pattern underlining the bottom of the rubber mat absorbs shocks and sounds.
These rubber mats can be a great option if you are especially worried about noise with neighbors or waking family members in your house.
The rubber floor mats are 3/4" thick, made of vulcanized recycled tires, and come in three different sizes - 4' x 6', 4' x 8', and 6' x 7.5'.
This can be a great option if you are looking for something a little bit bigger than the standard 4' x 6' but not nearly as big as the 15' x 4'.
Check out the FlooringInc.com Shock Flooring Mats here.
Wrap Up
There you have it! Five great options as you pick the best rubber flooring mats. Be sure to check out our rubber mat selection as well as all the flooring options we offer at Freedom Fitness Equipment for your garage gym here!
At the end of the day, it is hard to go wrong with rubber flooring mats. Use this guide to pick the best one and continue building that garage gym of your dreams.
At Freedom Fitness Equipment, we are here for you and want to help you smash all of your fitness goals!
We'd love to know what you think, leave us a comment on your favorite type of gym flooring below.
Sources:
"No Unpleasant Odors." MyGymFloor, https://www.mygymfloor.com/Gym-Floor-101/No-Unpleasant-Odors.
"Rubber Flooring Inc.." Rubber Flooring Inc., https://www.rubberflooringinc.com/.
"What Are VOCs (Volatile Organic Compounds)?" Floor Coverings International Austin, https://austin.floorcoveringsinternational.com/articles/what-are-volatile-organic-compounds/#:~:text=VOC%20stands%20for%20Volatile%20Organic,the%20air%20of%20your%20home.